WWE legend Kurt Angle has revealed the worst storyline that he's ever been a part of.
Kurt Angle has spent a combined 11 years performing in the WWE. He's one of the most iconic figures in the company's history.
Though there's plenty to choose from when considering what was the WORST storyline he's ever been a part of during his time in the WWE, he has managed to pick one from the bunch.
As is reported by SportsKeeda, Vince McMahon was under the impression that Angle was a big fan of black women, and as a result, set him up with a storyline involving Booker T's wife.
It's all incredibly bizarre, but the report includes quotes from the fighter discussing the matter, "To do that and pretend I was stalking his wife. It was the worst angle I've ever done."
"Worst storyline I've ever done. I did it anyway because I've always been a team player, but I was not comfortable doing it."
"I have no idea where the idea came from [that he specifically likes black women]. I think that Vince McMahon, you know Vince McMahon is kind of a ribber."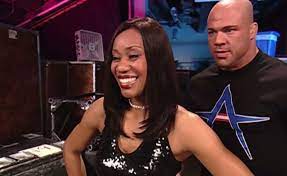 MORE: Former WWE star on possibility of appearing at WrestleMania in the future
"He will do stuff to mess with you a little bit and take kind of, you know, shove it in your face. I think that he thought I had this fetish for black women."
"I like all women, white, black, Hispanic; it doesn't matter. My wife is half-Hispanic, half-Italian.
"And, you know, so Vince thought I had this fetish for black women, and he thought it would be a funny program, and I was not comfortable by any means; I had so much respect for Booker T and Sharmell [Booker T's wife]."
You can certainly understand why he wasn't comfortable stalking another man's wife, even it was for television. The whole idea from McMahon was just incredibly questionable.
Even if Angle was an admirer of black women, to use that in a storyline in order to poke fun at him is not a good look at all for the WWE chief.