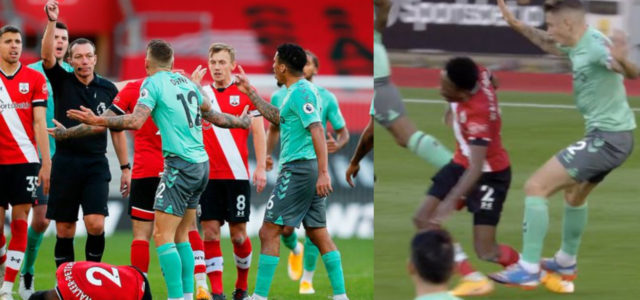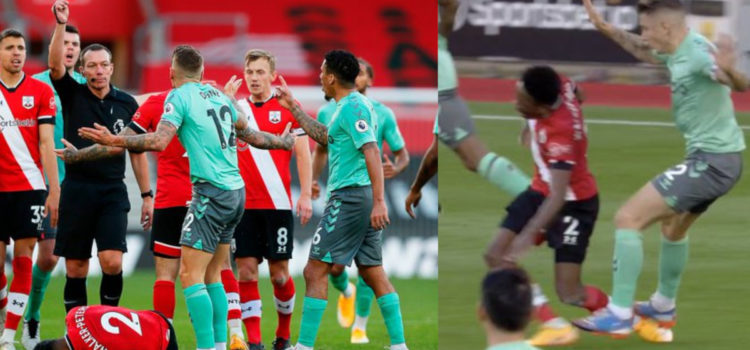 WATCH: "If That's A Red, The Game Is Officially Gone!" - Jamie Redknapp WATCH: The Most Controversial Penalty Of The Season...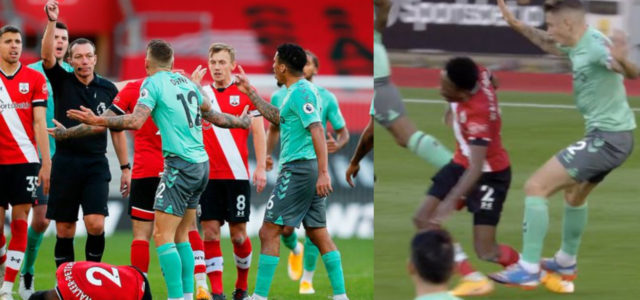 A bad day has just become a whole lot worse for Everton as Lucas Digne is handed a straight red card while 2-0 down against Southampton, but was it all accidental?
The ref didn't seem to think so but many fans and even pundits are arguing it was a accidental.
See the challenge here:
EVERTON DOWN TO TEN MEN ?

Lucas Digne is given his marching orders for raking down the back of Kyle Walker-Peters' leg.

? Watch on Sky Sports PL
? Follow #SOUEVE here: https://t.co/DyjBBS6u9g
? Download the @SkySports app! pic.twitter.com/SJufJlvVNy

— Sky Sports Premier League (@SkySportsPL) October 25, 2020
Gary Lineker was not impressed with the refs decision saying:
Running behind someone and accidentally treading on their heel should never be a red. Can't you chase people anymore?

— Gary Lineker (@GaryLineker) October 25, 2020
Different sets of fans have different interpretations of what happened, with Liverpool fans thinking it's karma and Everton fans thinking it's bias against them.
If that's a red card, the game's gone

— Aouar news (@Nikul11AFC) October 25, 2020
If that's a red card, the game's gone

— Aouar news (@Nikul11AFC) October 25, 2020
Raking down his leg???? Maybe watch it again. He stood on his foot by accident.

— Kristian Hicks (@KHix) October 25, 2020
Hardly "raking"…he's clearly accidentally run into the back of him. Obviously this doesent fit the media agenda right now!

— FPL Prince (@TheFPLPrince) October 25, 2020
What do you think?