AC Milan striker Zlatan Ibrahimovic is back in the international game, which is good news for everyone other than his family.
Zlatan initially hung up his boots with Sweden after Euro 2016, but at the age of 39, in the midst of a brilliant season for the Rossoneri, has staged a stunning comeback to play for his country.
The whole football world is excited to see Ibrahimovic back in Sweden colours playing at this summer's European Championships, but while his comeback is great news for the game as a whole, it does mean that time which was previously spent with his family will now be spent with his teammates.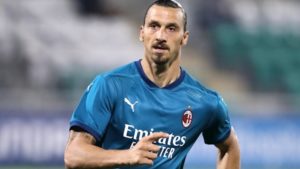 This appears to be somewhat of a sensitive topic for Zlatan, who we always knew was just a big softy. Having been asked about his family's reaction to his decision to return to the National Team setup, Ibrahimovic simply couldn't hold back the tears…
Zlatan was brought to tears when asked about leaving his sons to join up with the Swedish national team 🥺 pic.twitter.com/bxSSjPQIQs

— ESPN FC (@ESPNFC) March 22, 2021