UEFA will NOT take action against Antonio Rudiger for appearing to bite Paul Pogba during France v Germany at Euro 2020, according to Sky Sports.
Rudiger, who spent much of Chelsea's Champions League-winning campaign mastering the dark arts, breaking Kevin De Bruyne's face in the process, was caught on camera appearing to bite Pogba before squeezing his nipples.
It was rather questionable behaviour from the German centre-back, the kind that you imagine could see him face retrospective action, especially after the media whirlwind following the game's conclusion.
READ MORE: (Videos) Cristiano Ronaldo smashes two Euros records with late brace in Portugal's opener vs Hungary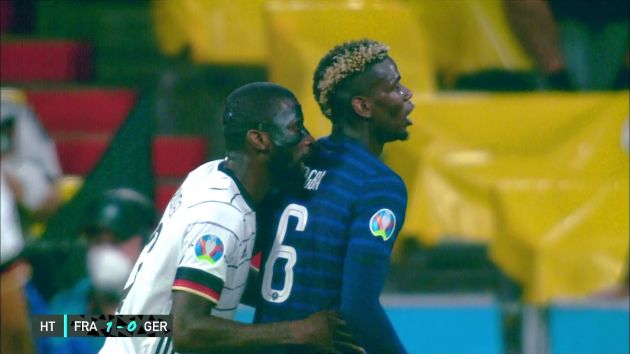 However, as is reported by Sky Sports, UEFA are to take no action against Rudiger for his behaviour during Germany's Euro 2020 opener against France. He's escaping without punishment.
As is mentioned in the report, Pogba himself has spoken publicly about his desire for Rudiger to avoid a suspension following the incident. Perhaps UEFA took that into account, because they're letting him get off scot-free.
Click here for more of the latest football news