Fight fans noticed something untoward with Hafthor Bjornsson's victory over Eddie Hall in Dubai on Saturday night.
Thor provided Hall with a lesson in the sweet science of boxing, with the Icelandic strongman clearly having spent more time than his rival attempting to learn the intricacies of the sport.
Hall's entire gameplan was evidently relying on his confidence that he could knock Thor would with those enormous, wild right hands he was swinging constantly throughout the opening exchanges.
Unfortunately for Eddie, he was unable to land one flush enough to knock Thor out, which saw him lose the fight, which he was so confident about winning, by unanimous decision on the scorecards.
Hall does have grounds to complain about the outcome of the fight, however, as it appears as though the final round was stopped with 10-seconds left on the clock, just as he attempted to get on the front foot.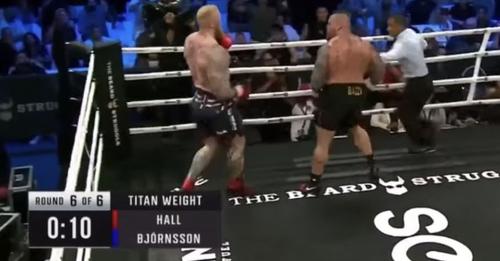 Granted, he had all but punched himself out by this point, but with his size and strength, it would only have taken one clean hit to leave Thor on the floor, so it doesn't seem right that the fight wasn't allowed to go for the final ten seconds…