A huge swarm of locusts was spotted around the stadium of Saudi club Al-Nassr prior to their match against Al-Wehda yesterday.
The Al-Nassr team head to Mecca to face a struggling Al-Wehda side but the supporters, who now have the privilege of watching Cristiano Ronaldo play for their football team, found themselves covered in locusts during the game.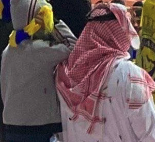 Several fans commented on the matter on social media: "Some might say there was a real 'buzzing' atmosphere", "Even locusts couldn't miss watching Ronaldo creating history".
Thankfully, Ronaldo did his best to make the fans forget about the locusts, as he wen and scored all four of his side's goals as they won to go top of the league.
Those four gals took his career league tally to 503, scoring his 61st hat trick in the process.