A clip of Barcelona midfielder Sergio Busquets being an absolute sh*thouse has gone viral on social media in wake of his side's victory over Dynamo Kyiv.
Busquets, an absolute Rolls-Royce of a midfielder he may be, has never been considered one of football's hard men.
The Spaniard is rather lightweight and excels in the drama department, as he proved once again during Dynamo Kyiv vs Barcelona on Tuesday night.
Busquets collided with an opposing player and looked to be in some degree of pain… for merely a matter of seconds.
After the veteran midfielder recognised that his assistance would be required to defend, he sprung to his feet and got back into the action.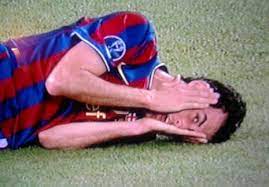 MORE: Paul Scholes SLAMS 'away with the fairies' Man United star after performance vs Atalanta
Needless to say, he's been rinsed for it after football fans on social media noticed his antics during the fixture.
This is classic Sergio Busquets – and it epitomised all there was to hate about Barcelona in the era that produced him.
Sergio Busquets with one of the most miraculous recoveries ever seen on a football pitch 😅#UCL pic.twitter.com/lXGrcTPJSt

— Football on BT Sport (@btsportfootball) November 2, 2021
Nico should take 1 more lesson from Busquets….. 😂 pic.twitter.com/rYQqoiVaks

— Barca Analysis (@BarcaAnalysis1) November 3, 2021