Mauricio Pochettino has been caught signing a Manchester United shirt amid speculation he could be set to take the job at Old Trafford.
Pochettino was heavily linked with the Man United post prior to his appointment at Paris Saint-Germain, with Ole Gunnar Solskjaer struggling at that point in time.
After the Argentine moved to the Parc des Princes and Solskjaer turned Man United's form around, the speculation subsided.
Now Solskjaer has been given his marching orders, as reports claim that Pochettino is discontented in Paris, said speculation has now intensified.
Pochettino, who was in Manchester last night as PSG faced Manchester City at the Etihad, has done little to prevent talk of him moving to Old Trafford bubbling over.
The former Tottenham manager has been caught red-handed (pardon the pun) signing a Man United shirt.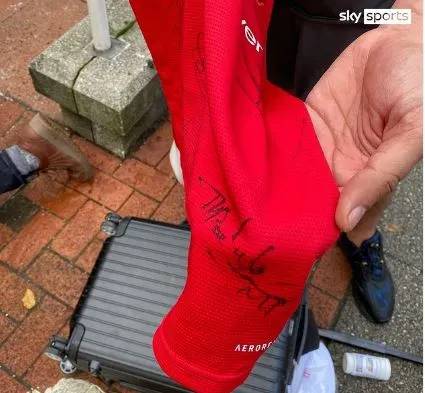 MORE: Jack Grealish shock with Man City star 'ENGAGED' amid cheating rumours as girlfriend flashes ring
It's down to the individual how much you choose to read into this, but Pochettino would have been well aware what assumptions would be made after he did it.
He clearly has little interest in putting an end to the rumours. Instead, he's ensured they will continue.