Manchester City midfielder Phil Foden has sacked his social media team after a tweet they sent to Kylian Mbappe in wake of his side's victory over Borussia Dortmund.
Foden scored a superb goal as Man City recorded a 2-1 victory over Dortmund on Wednesday night, one which saw them safely through into the semi-finals of the Champions League, where Paris Saint-Germain will be waiting to face them.
After the full-time whistle had blew, a tweet was sent from Foden's official Twitter account, appearing to challenge PSG superstar Kylian Mbappe ahead of the contest. The tweet has since been deleted.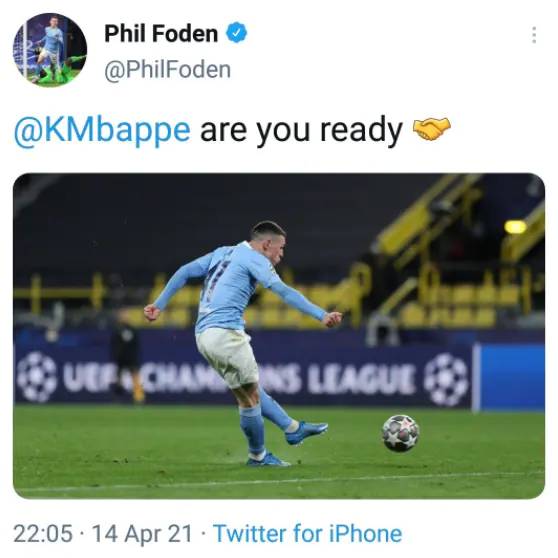 According to the Telegraph, Foden has now made the decision to part ways with the company that were in charge of running his account. The England international was clearly not happy with their decision to '@' Mbappe.
The Telegraph's report notes that Foden was left "dismayed and disappointed". It's believed that Foden and his representatives felt as though the tweet was disrespectful to Mbappe, one of the best players on the planet.
Of course, if Foden had decided to run his own social media channels to begin with, problems of this nature would never be encountered. Perhaps a change of strategy will be on his mind after this.