Jake Paul has taken to Instagram to reveal a DM shared with UFC superstar Conor McGregor.
Paul previously made a $50m fight offer to McGregor in hope that the Irishman would meet him in the boxing ring.
McGregor evidently took the numbers proposed by the YouTuber with a pinch of salt, because otherwise, you'd have expected him to fill up his bank with an easy night's work.
While he is currently focusing on making a return to the UFC after recovering from his leg break, McGregor hasn't ruled out the possibility of stepping back into the boxing ring in the future.
It remains to be seen if Jake Paul would be high on his list of potential opponents, but the social media star is still trying – and his message has been received by McGregor…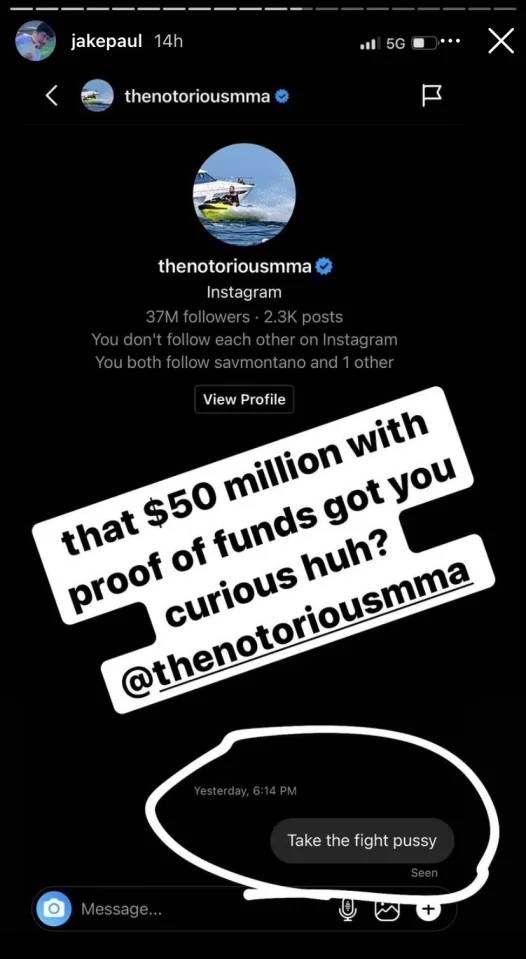 MORE: (Gallery) Conor McGregor shrugs off bomb attack by enjoying boozy night out at his Dublin pub
Received, yes, but without any response. McGregor has shown no interest in fighting Paul thus far, perhaps he'd have his eyes set on bigger fish, were he to make a boxing return.
Unlike Ben Askren and Tyron Woodley, who needed Paul to sell PPVs, McGregor is a PPV superstar in his own right. What does he have to gain from fighting Paul in a boxing match?