Kylian Mbappe has scored a HAT-TRICK merely an hour after extending his Paris Saint-Germain contract.
As the whole world waited to see Mbappe unveiled as a Real Madrid player, with Florentino Perez's year-long flirting understood to have paid off, the Frenchman performed a remarkable U-turn.
Mbappe decided against pursuing his dream move to the Santiago Bernabeu and instead extended his PSG contract by three years, a decision which is likely to make him the richest footballer ever.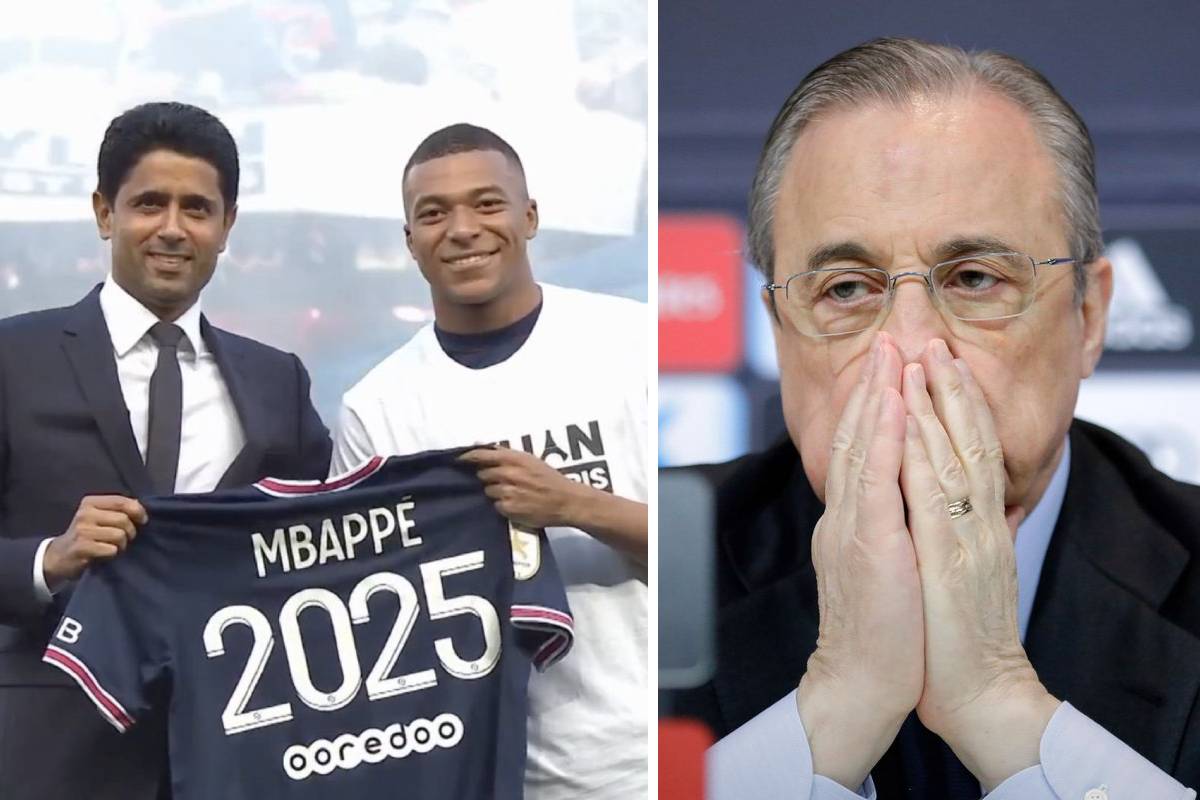 Get the funniest stories in sport in 3 minutes with The Upshot, a weekly newsletter spilling gossip, drama and controversy from the world of sport.
It's free, sign up here.
From PSG's perspective, considering they're state-backed and have virtually unlimited wealth, paying over the odds to keep Mbappe is well worth it. He is quite exceptional – as he's proven tonight.
Merely an hour after it was announced to the Parc des Princes that Mbappe had signed along the dotted line on an extension, he's only gone and bagged a hat-trick against Metz!
GOAL ONE:
24 minutes into the game and Kylian Mbappé celebrates his new PSG contract in typical fashion! ⚽️ pic.twitter.com/6hMnvL8j8E

— Football on BT Sport (@btsportfootball) May 21, 2022
Pictures courtesy of BT Sport and Prime Video respectively
GOAL 2:
Pictures courtesy of Prime Video respectively
GOAL 3:
MBAPPE HAT-TRICK! 🔥

It really is the perfect evening for PSG's star 👏

Unbelievable. pic.twitter.com/8Q1utP1Vd1

— Football on BT Sport (@btsportfootball) May 21, 2022
Pictures courtesy of BT Sport and Ligue 1 Uber Eats respectively
He's got all these fans saying the same thing…
Mbappe is the best player in the world ppl are just scared to admit it

— Sammy #PEREZOUT (@sammy1679) May 21, 2022
LOOOOOOOOOL MBAPPE IS THE BEST PLAYER IN THE WORLD.

— Galu (@PSGalu) May 21, 2022
Kylian Mbappe is the best player in the world.

— THE FIRST SON (@o_chi_yeng_) May 21, 2022
KYLIAN MBAPPÉ IS THE BEST PLAYER IN THE WORLD.

— Read the room. (@RamalosaSir) May 21, 2022