There was an edgy moment during the Carabao Cup semi-final between Manchester United and Manchester City when Luke Shaw left a shoulder on Man City player Joao Cancelo after the Portuguese full-back fouled Marcus Rashford.
Cancelo had shoved Rashford out of play and as he was jogging back to his position when United left-back Luke Shaw deliberately got in his way and shouldered him to the ground.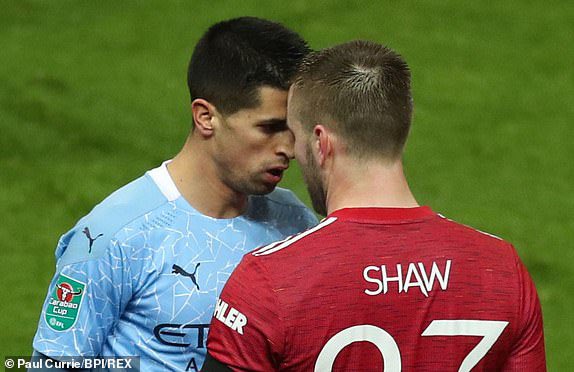 The Portuguese international's pride was obviously hurt as he jumped right back up to square up to Shaw but cleverly the 26-year-old didn't touch heads with the Englishman running the risk of getting sent off for retaliation.
Cancelo did receive a yellow card though which he was not pleased about and he argued with referee Martin Atkinson that Shaw should have been the man to get cautioned.
It wasn't the first heated moment of the game as Bruno Fernandes and Fernandinho clashed earlier in the game.
Fernandinho has a little nibble at Fernandes in the 12th minute and the Portuguese international didn't take too kindly to the Brazilian's close attention and shoved him after compiling to referee Martin Atkinson.