Jose Aldo wants an immediate rematch with Conor McGregor after he suffered his first loss in more than 10 years in Saturday's UFC 194 pay-per-view headliner.
Aldo's 18-fight winning streak and nearly five-year UFC featherweight title reign came to a stunning end when McGregor caught him with a perfect punch for a 13-second knockout victory.
Here's the whole fight in one vine! #UFC194 https://t.co/k2urLICdMl

— Betfair (@Betfair) December 13, 2015
The outcome was humiliating for the Brazilian after a lengthy buildup to the grudge match, and while he gave McGregor credit for his ability to land the fight-ending blow, Aldo said he wants a shot at redemption.
"He threw a straight to my chest, I was expecting it, and when I went to attack him, he hit a good straight," Aldo said in his post-fight interview.
"I think this fight here, I think now we have to go to a rematch. I think it doesn't end there. I think it was very fast there. He hit a good blow and was able to finish the fight."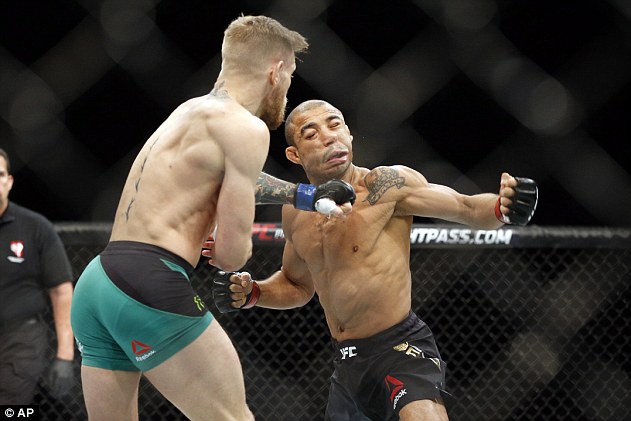 Although there was little action to dissect from the fight itself, Aldo did set himself up for the knockout by charging McGregor with an early offensive attack. He walked right into the left hand and went down in a heap for the first knockout loss of his career.
Aldo can be one of the most dangerous fighters in the sport when coming forward, but a large amount of his striking success in the UFC has come via counterattacks. When asked if his decision to come at McGregor early was a product of being thrown off his game by the pre-fight hype, Aldo adamantly denied it.
"It didn't affect me in any way, man; he may have spoken whatever," Aldo said. "I never fall for provocations, I stay with a clear head (calm mind) in there, man. I have to get in there and do my job. He was happy tonight, landed a good blow. I think we have to go on to the next now. Now I'm waiting for the rematch there, and if it's God's will on the next one, I'll be much more trained, and I will reclaim what is mine."
Despite the fact immediate rematches for longstanding champions have been commonplace throughout UFC history, it appears Aldo may not be granted such an opportunity. McGregor discussed a potential move up to lightweight or a defense of his newly won crown against Frankie Edgar, which would seemingly leave Aldo out of the loop.
No official announcements have been made regarding McGregor's next fight, though, which means there's hope for Aldo to get his wish.
Aldo was the UFC's longest reigning champion prior to UFC 194, an honor now passed to flyweight titleholder Demetrious Johnson. His time on top of the division ended in perhaps the most devastating fashion possible, but he vowed to return stronger and said the unfortunate outcome was simply the nature of high-level competition.
"Thank you guys from Brazil," Aldo said. 'Thank you a lot for the support (and) the positive energy from everyone. This is part (of it). It's a sport. We lost the battle today, but if it's God's will, we lost the battle, not the war. If it's God's will, I'll come back stronger and conquer (the belt) for you. Thank you very much for all your support. Thank you guys, a big hug. Be with God (may God be with you)."