For many, though, Jake Paul cannot be taken seriously. Not only has he failed to take on a professional fighter, which has angered some, but his skill level is nowhere near that of stars in the boxing world such as Tyson Fury and Canelo Álvarez. Even though Paul has failed to win the support of some boxing and MMA royalty, there's an argument to suggest that he deserves more credit than he gets. Let's have a look at why below. 
Showing how boxing promotion should be done
Whether you like him or not, Jake Paul certainly knows how to sell a boxing fight. The fact that people outside of his typically young YouTube audience know who he is and who he is fighting is a testament to that. His brash arrogance and unlimited self-confidence, although probably an act at times, have shaken up the world of boxing and the promotional aspect of the sport. He's even engaging in social media spats with professional boxers and UFC fighters on a regular basis, with a huge selection of famous stars taking what most definitely is bait from the YouTuber. What many people forget is that Paul has made a career from being a wind-up merchant and releasing a variety of silly videos on YouTube, so it's only natural that he'd do the same when aiming to build a name for himself in the sport of boxing. Yes, it's a style of promotion that doesn't appeal to all fans, but there's no doubting that it's working for Jake Paul given the constant attention he is receiving. 
Bringing eyes onto the sport of boxing 
Following on from the promotional aspect of Jake Paul's boxing career, he is also bringing eyes onto the sport of boxing, perhaps winning over casual fans and even audiences who don't usually watch boxing at all. As such, pay-per-view numbers are selling when he's fighting, people are discovering a world of online betting opportunities at popular sites like https://www.mrgreen.com/ie/betting ahead of placing a wager on one of his fights, and he's educating his audience on the dedication needed to master the sweet science of boxing. Whether or not Jake Paul fans are tuning into other major boxing fights isn't clear, but Paul has done more work than most when it comes to influencing the debate around the sport and bringing eyes onto it, particularly in recent times anyway. 
Campaigning for fair pay in the UFC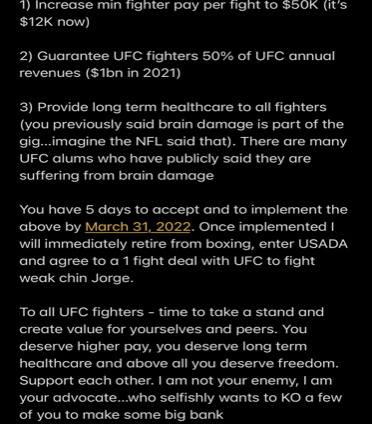 A seemingly never-ending spat that is entertaining both boxing and UFC fans, Jake Paul is even raising awareness around what many people believe is an unfair pay structure in the UFC after engaging in a war of words with the President of the Ultimate Fighting Championship, Dana White. Although some people can't stand Paul's antics, there is no doubt that his claims around unfair fighter pay have some substance. The above image is a promise by Paul made to White where he states that he will immediately retire from boxing and fight Jorge Masvidal in the UFC if White agrees to the conditions stated.