Michael Hunter has revealed his belief that Alexander Povetkin will knock out Dillian Whyte for a second time when the two fighters meet this Saturday.
Hunter fought Povetkin in Saudi Arabia on the undercard of Anthony Joshua vs Andy Ruiz Jr II. In one of the more questionable decisions of the night, the fight was scored as a draw.
Povetkin showed his age that night, and did so once again in Eddie Hearn's back garden, being twice knocked down by Whyte and losing every round up until landing a thunderous left-handed uppercut on the Englishman's chin.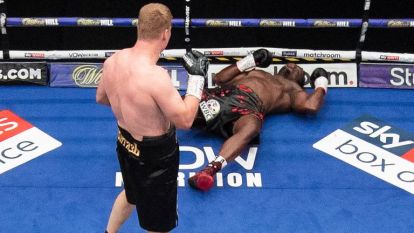 Considering the manner in which the fight panned out and Whyte was beaten, there was always going to be a rematch, with Povetkin once again heading into the bout as the underdog.
However, Hunter, who had 12 rounds to feel out Povetkin back in December 2019, believes that there will be no retribution for Whyte this Saturday. As reported by Sky Sports, he predicts a repeat of the Povetkin KO:
"I think that it's going to be a repeat. It's going to be very similar to the first fight."
"Povetkin always gets to his man at some point and Dillian Whyte always gets hit at some point in all of his fights, so I think it's going to be a very similar outcome."
"It could go either way, but I just think the experience [of Povetkin] is going to outweigh Whyte's youth and skills."
Whyte really was doing a job on Povetkin before being caught out by the left-hand. Surely he won't make the same mistake this Saturday – will he?