Germany are playing in a major international tournament again, which means Joachim Loew is being caught on camera doing some questionable stuff.
Just as sure as you can be that the sun will shine on the equator, the Germany boss will be doing something disgusting in the dugout, evidently unable to manage a game of football without keeping his fingers busy.
He was spotted giving them a good old sniff during Germany's defeat to France earlier in the tournament, which naturally, made you wonder where they'd been previously.
READ MORE: Spotted: Wojciech Szczesny caught puffing on a cigarette a matter of hours before Spain vs Poland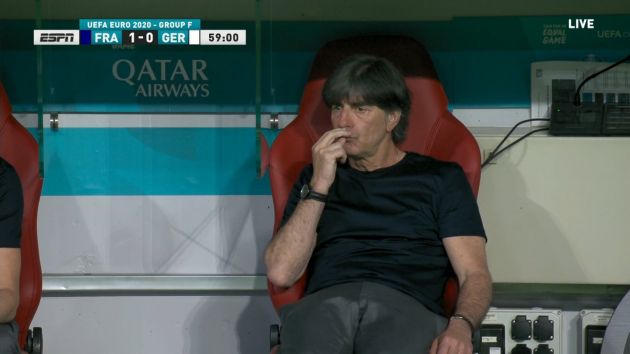 This is not the first time that the whereabouts of Loew's fingers have been topic of conversation – he has an extensive history of being spotted acting in a questionable manner on the German bench.
He's previously attempted to offer an explanation for it, too, as SB Nation reported back in 2016. Loew said, "I'm sorry for it. When you're full of adrenaline, things happen that you don't perceive."
In the same report, SB Nation quote a 'biochemist' by the name of Dr. Patrick Healy, who waves away Loew's claims, "I have not done any research on this, but I can't see any reason adrenaline would do that."
"It makes no sense at all," Healy continued. "The only explanation is that he was fidgety because of it, but that's stretching it."
Listen, nobody's perfect – we're all a little rough around the edges. However, there's some habits which are just a little bit anti-social, and Loew's certainly fits into that category.
Germany legend Didi Hamann claims Cristiano Ronaldo has been left looking like a 'fool' – click here to find out why