Speaking to Sky Sports, David Haye issued a warning to Tyson Fury over his undisputed world title fight with Anthony Joshua.
It's the fight that we've been waiting to come to fruition for what feels like an eternity, with WBC heavyweight champion of the world Fury set to go to-to-toe with WBA, IBF and WBO belt-holder Joshua.
As reported by the BBC, Eddie Hearn has revealed that a two-fight deal has been agreed between the two camps, which gives the impression that it's only a matter of time before we have a date in the calendar.
While, as we have learnt the hard way over the years, it's rarely that straightforward in boxing, it's enough to get people speculating over how the fight could pan out.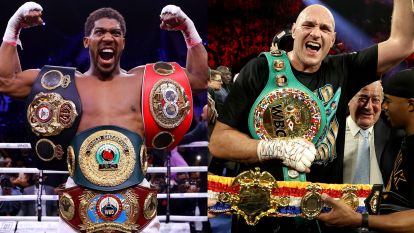 David Haye, a former two-weight world champion himself, has given his take, and speaking to Sky Sports, he revealed his belief that Fury ought to err on the side of caution when in the ring with AJ:
"Tyson Fury, who many do believe is No 1 because Fury beat Wilder, and he's the lineal champion, but I think it's the perfect time for Anthony Joshua."
"Tyson Fury is on such a high. The victory over Wilder made him look a million dollars, his confidence will be sky high and I genuinely think Fury and his team don't rate AJ as highly as they should do. That, in itself, causes potential issues."
"If Tyson Fury attacks Anthony Joshua in the same manner, in which he did in Vegas against Deontay Wilder, I don't believe it works in his favour."
"I believe he'll be too open, too wide and someone as fast, athletic, and as skilful as Anthony Joshua will be able to punch right through the middle and take him out, and take him out early."
"I know it's a controversial prediction."
Fury is as astute a boxer as they come, so he won't need words of advice from Haye in order to come out on top in this fight. He's not wrong, though, Joshua is an entirely different proposition to Deontay Wilder, so he'll need to tread carefully.