Manchester Crown Court heard some very serious allegations about Man United legend Ryan Giggs on Friday, reports Sky Sports.
As was reported by the BBC back in April, the former Red Devils winger was charged with the assault of two women. Giggs denied all of the allegations made against him.
A trial date has been set for January of next year, but Giggs was called into court on Friday in order for the prosecution to 'detail the particulars of the coercive and controlling behaviour charge' (via The Straits Times).
As has been mentioned in the aforementioned report by Sky Sports, Giggs has pleaded not guilty to allegations of controlling and coercive behaviour.
MORE: Premier League players face COMPULSORY coronavirus vaccinations ahead of new season
Still, what the 13-time Premier League winner is being accused of by ex-girlfriend Kate Greville, 36, is pretty grave. The allegations outlined in Sky Sports' report are as follows.
Messaging her and/or blocking her when she was on nights out with others, or she asked about your relationship with others.
Threatening to send e-mails to her friends and her employers about your sexual relationship and behaviour.
Throwing her belongings out of your house when she questioned you about relationships with other women.
At the Stafford Hotel in London, kicking her in the back, and then throwing her out of the hotel bedroom naked, followed by throwing her bag at her when she accused you of flirting with other women.
Sending constant unwanted messages and making constant unwanted calls to her and her friends when she tried to break off the relationship.
After she had tried to break off the relationship, regularly turning up unannounced and uninvited at her home, workplace and gym.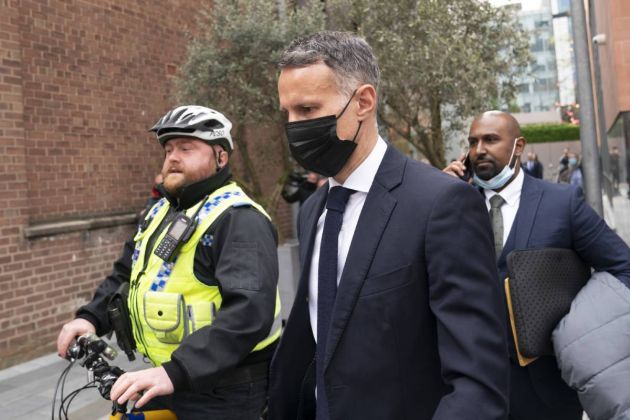 Notably, the accusation of Giggs kicking ex-girlfriend Greville in the back before forcing her out of a hotel room without any clothes to wear is weighty.
Giggs is also accused of assaulting Greville's younger sister, Emma Greville. A charge which he also denies, as Sky Sports report.
These are, at this point, merely accusations. If found guilty, though, Giggs' status as a Man United and Premier League icon would be in real jeopardy.
Click here for more of the latest football news