Eddie Hearn has slammed the Floyd Mayweather vs Logan Paul fight, conceding that he felt uncomfortable to be involved in YouTube boxing in the past, reports the Daily Mail.
Hearn was turned on by the old-school British boxing ultras after facilitating a professional bout between YouTubers KSI and Logan Paul, which was streamed live on DAZN.
It was clear from the outset that it was merely a money-making scheme from Hearn's perspective, but having one of his most high-profile fighters, Billy Joe Saunders, fighting on the undercard, was quite frankly an insult.
Nevertheless, time has past and perhaps Hearn has learnt from his mistakes, because his comments on the Mayweather vs Paul exhibition bout, which took place back in June, are pretty damning.
MORE: 'I'd beat up Mayweather' – KSI makes bold claims during appearance on rival Logan Paul's podcast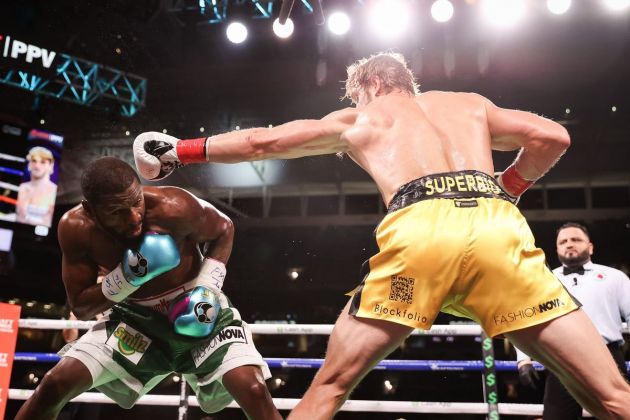 He's quoted by the Daily Mail saying:
"Floyd Mayweather vs Logan Paul was the biggest joke I have ever seen."
"Now if there's a fight between someone who is taking boxing seriously and someone that can fight, I'm talking about Jake Paul against Tyron Woodley coming up, I'm not offended by it."
"Jake is in the gym, he's doing the hard sparring, he's beaten a couple of fighters, UFC fighters at least, different."
"I did Logan Paul against KSI, two guys who can't really fight at that professional level, but it was a 50/50. We sold out the Staples Centre, we did millions of buys worldwide on pay-per-view. But I did feel uncomfortable, I have to be honest."
To see a YouTuber sharing the ring with one of the best pound-for-pound boxers of all-time was an insult enough, but the fight turned out to be complete dross – a waste of money for anyone who attended or bought it on PPV.
The reality is that more of these fights will take place further down the line, with millions more PPVs being sold. With that being the case, Hearn can't honestly rule out his involvement in them in the future.
Click here for more of the latest Boxing & MMA news