Ahead of Portugal's Round of 16 match with Switzerland tomorrow, Diogo Dalot decided to get a feel of Cristiano Ronaldo's muscles during a training session.
There clearly seems to be no love lost between the pair, after Ronaldo terminated his Manchester United contract after his shock interview with Piers Morgan about his feelings towards the Red Devils, which was released prior to the start of the World Cup.
Dalot and Ronaldo's fellow team mate and defender Pepe watched on as the pair exchanged their moment together, but it is hard to imagine that the man who is known for his hard man character on the pitch will have been too enamoured by what he was seeing.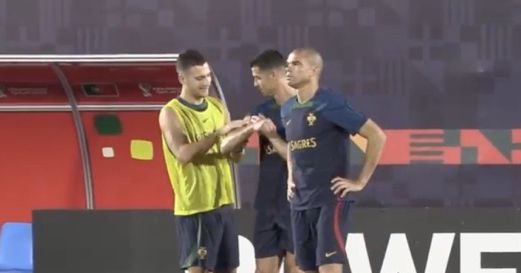 Let's hope that Portugal don't lose tomorrow evening, because Dalot may get the blame for his distractions, and rightly so.…
The match between Portugal and Switzerland kicks off tomorrow evening at 19:00.