Dillian Whyte has slammed Tyson Fury for claiming to be number one in the heavyweight division, while turning down fights against other top ten fighters, report Sky Sports.
In wake of his devastating knockout victory over Alexander Povetkin, Whyte is on the war path – and who could blame him?
The Brixton-born fighter intends to position himself to fight the winner of Tyson Fury vs Anthony Joshua, which would provide him with his long-awaited world title shot.
Whyte has had a long-standing rivalry with Anthony Joshua since their days as amateur fighters, with AJ having previously knocked his rival out back in 2015.
In recent times, his war of words with AJ has taken a backseat, with Fury instead being the recipient of much of what has been said in the press.
That's exactly the case here, with Whyte slamming Fury while speaking to Sky Sports for believing that he's the undisputed number one in the division:
"Fury and Wilder get too much credit for their padded, cherry-picked records and have only beaten one current Ring Magazine top 10 fighter each."
"I've beaten three. Fury calls himself the greatest of all time, yet has turned down fights against me, even when ordered by the WBC. The guy's a joker."
"He [Fury] fought Wilder and beat Wilder, but I've been trying to fight Wilder for a long time."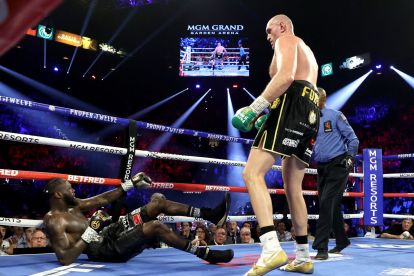 "If I had fought Wilder, I'd have beaten Wilder before Fury. If I'd have beaten Wilder, I'd be undisputed WBC champion by now. As things stand there are two WBC world heavyweight champions. We have exactly the same belt. How can Fury fight to be undisputed when he is not even the undisputed WBC champion?"
"Because he's a coward, 'Fury has been off for three years, if I catch him now.'"
"That was his best chance of beating him and it backfired, because he's a coward."
Fury performed one of sport's greatest comebacks to get in shape to dethrone Deontay Wilder. There has been nothing easy or straightforward about his route to where he is now.
Whyte neglects to acknowledge that publicly, but will be well aware. He just wants that fight.