Georgina Rodríguez has let the Portugal manager have it with a scathing rant on her Instagram.
Fernando Santos decided to bench his captain, Cristiano Ronaldo, in Saturday's semi-final loss to Morocco. This was the second game in a row where the Portugal manager deemed the 37-year-old not good enough to make his starting eleven. 
Santos decided to leave Ronaldo on the bench in their 6-1 trashing of Switzerland in the round of 16 on Tuesday. The manager was vindicated when his replacement striker, Goncalo Ramos, netted a hat-trick and won man of the match. 
Read More: Roy Keane was brutally honest when analysing England getting knocked out of the World Cup
So, Ronaldo's exclusion from the squad on Saturday wasn't that big of a surprise. Although he came on early in the second half, the former Manchester United player failed to have any real impact on the game. 
But Ronaldo's girlfriend, Rodríguez, believes that it was a mistake not to have him on the pitch from the start.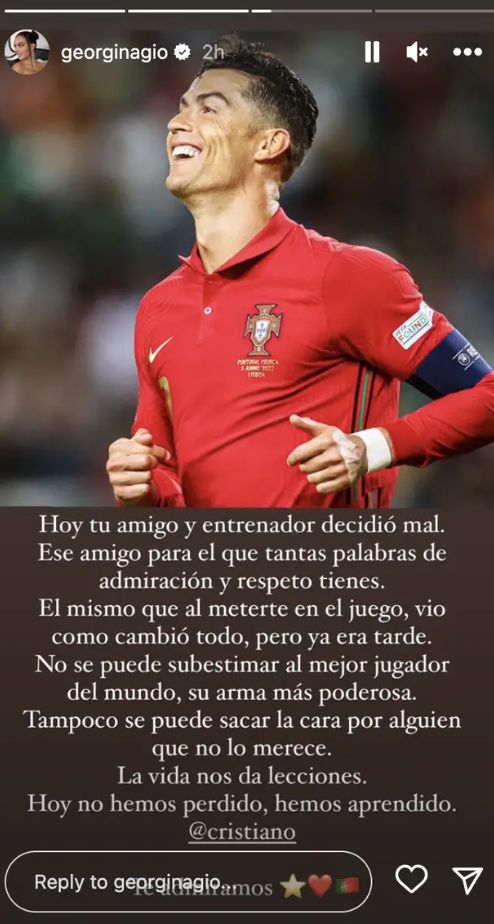 In a scathing and patronising Instagram rant she wrote: 
"Today your friend and coach decided wrong. That friend for whom you have so many words of admiration and respect,
"The same one who, by getting you into the game, saw how everything changed, but it was too late.
"You cannot underestimate the best player in the world, his most powerful weapon.
"Nor can you stick up for someone who doesn't deserve it. Life teaches us lessons. Today we have not lost, we have learned."
Rodríguez isn't the only person close to Ronaldo who has criticised Santos, his sister also vented her frustration at the Portugal manager several times on Instagram.